Thanks To
---
A true story based on one of the BIGGEST fantasies I've had since I first came onto the kink scene has always been to become a rubber mannequin in a fetish store. Blank and vacant, an unmoving object used for decoration and display – this is something I've always been fascinated by and fall into when in deep 'gimp space'. 
On a fated day in February 2023, I had the opportunity to make this a reality. Thanks to the lovely and passionate people at Boxer Barcelona, myself and a gimpy friend reached out to the owner, Spin, to undertake a photo shoot in the flagship fetish store based in Barcelona, Spain.
The atmosphere inside me was electrifying from my fingertips to my toes. I was buzzing with nervous excitement. Who knew how this would go or exactly what would happen, but as I dressed in my rubber second skin in an Airbnb nearby – I could only focus on one thing. How I'd even manage to get the chance to experience something like this – I could hardly fathom. I knew these kinds of circumstances didn't come around every day – but I was going to grab it by the horns and do something I never thought possible.
For some background, I'd been planning an early Spring trip to a seaside getaway with a kinky friend for a few weeks. We settled on Barcelona – as we were familiar with the city's mix of cultural spots and fetish roots. The cogs in motion began to turn when we chatted with the owner of the queer lifestyle and sports kink wear store, Boxer Barcelona. Many times during my Folsom Berlin trips, I had ridden on the enormous Boxer dog statue – so I was well aware of the imagination and creativity the store was well-recognised for.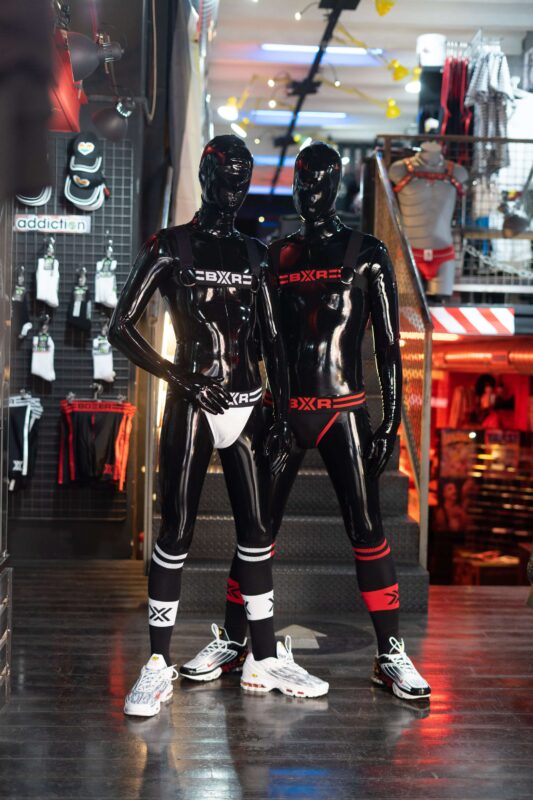 The plans were relatively loose, spending a few hours within the store with their in-house photographer, SnapYourKink, posed as mannequins dressed in layers of Boxer garments. A base layer of head-to-toe black rubber would hide our identities and render us hollow and lifeless objects. A passer-by may have a difficult time telling that there were even people beneath the shiny reflective surface – if not for the gentle rising and falling of our chests.
Arriving at our destination, we entered the vibrant and sleek interior – almost an artful masterpiece in itself. The minimalist yet futuristic aesthetic sets the tone for an industrial, hyper-masculine space. Crisp, clean lines dominate my surroundings, with reflective surfaces giving the illusion of endless space. The store's colour palette is a striking combination of neutral tones with pops of vibrant red hues strategically placed to draw my attention to the carefully curated displays.
The friendly staff are quick to accommodate and seem just as excited as we are to get started. After exchanging pleasantries, we head to the dressing room to talk preliminary ideas and don the first outfit to wear over our mannequin skin. I gaze at my reflection in the floor-to-ceiling mirror and feel a primal heat coursing through my body as the reality of my situation hits me.
We begin the photoshoot by snapping some quick shots showing off the outfits against a concrete backdrop. I always love the high contrast between the reflective rubber and the harsh surroundings with cracking concrete and industrial materials. There is no sense of comfort from the images captured – all that exists is room for the erotic and artificial to thrive.
The outfits chosen – on a normal body – would be somewhat revealing and transparent – showing off the wearer's skin. On these synthetic figures, the black glossy, polished veneer shines through as fashionable accents to a larger piece.
We stepped into position in various nooks and crannies of the store taking on our best dummy poses. Slightly outstretched arms, keeping our backs tensed and legs spread – we posed for the cameraman. The fetish store was relatively quiet, with one or two people browsing the displays with an interested peak at our mini-photoshoot.
Lastly, the piece de resistance was to anchor ourselves within the window display of the storefront. Here we would be in full view of the outside world – no longer hidden in the depths of the store but within the floor-to-ceiling windows as the light from the exterior poured in. My heart was racing as many faces walked by gawking at seeing these living mannequins taking their place.
Shocked expressions turned to smiles as we waved at passers-by – which is not exactly the appropriate action for a lifeless mannequin. The feeling was electrifying, knowing that I would only come this close to such an experience a few times in a lifetime. If I could have pinched my shiny reflective skin – I would have. Instead, I stood motionless as a good plastic object does. After the photoshoot, we chatted in length to the friendly staff at the store – we bid our farewells and journeyed out into the outside world.
---
Special thanks to –
Spin @ Boxer Barcelona, SnapYourKink, TightShinyRubber (as my model companion) and I one day hope to tick another kinky experience off my ever growing fantasy list. Check out more at Boxer Barcelona's website.